TimelyBill offers a comprehensive and interactive user training process.
To ensure your success with our billing software, we provide highly personalized, quality training. During the implementation process, our team guides you through the set-up and configuration of TimelyBill. Your users will learn how to administer TimelyBill, manage customers and operate our core billing modules.
While other vendors may limit user training to a couple of hours, we offer a comprehensive educational experience. Our goal is to ensure you have the knowledge to maximize the use of the TimelyBill platform. Below is an outline of our training process and methodology:
Instructor-led training sessions (Microsoft Teams) - These personalized training calls are lead by one of our senior engineers or support staff. All sessions are also made available as video recordings.

Basic configuration / user management
Service / order management
Usage configuration / management
Customer usage plan management
Additional 1:1 training as necessary

Learning management system (LMS) - Each training course engages students with narrated videos, key takeaway slides, quizzes, and task assignments.

TimelyBill basics (self-paced)
Customer management (self-paced)
Financial management (self-paced)
Product management (self-paced)

On-demand support website and knowledge base

Help ticket system
Best practices documentation

Integrated software tooltips and help files
Feature release webinars
The TimelyBill onboarding experience is purposefully designed to give new users the tools and knowledge to be successful.
Training & Support Website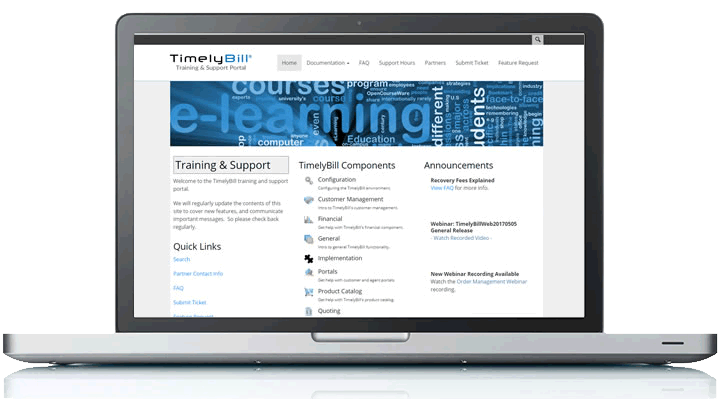 Learn TimelyBill