NetSapiens Billing, and Provisioning
Billing for the NetSapiens UCaaS platform.
As members of the NetSapien's Partner Alliance Program, we have extensive experience in supporting telecom companies who use their unified communications platform. TimelyBill's comprehensive features include usage rating, subscription management, quoting, taxation, billing, collections, and partner commissioning solutions.
Our robust suite of services can substantially benefit NetSapiens customers.
Our modern billing platform helps NetSapiens UC providers with CRM, new product launches, and essential invoice management processes. Using TimelyBill, NetSapiens based service providers can automate billing and provisioning tasks:
Rate, store and bill for phone calls
Import usage files from secure FTP (standard, advanced or custom CDR formats)
Determine the cost of a particular call
Search for phone calls, messages and data
Calculate associated telecom and non-telecom taxes
Generate invoices
Send invoices to customers (Print, email, online portal)
Interface and provisioning of NetSapiens platform
Provision the NetSapiens switch via integrated REST API actions
Manage domains, resellers, subscribers, devices, etc.
Create and trigger automated workflows
Example of an "intermediate level" NetSapiens order activation workflow:
Using Time Bill, your team configures our built-in Workflow Packages, Workflow Rules and REST Actions components.
Workflow tasks can be activated, trigger a variable replaced REST command such as adding a user to your NetSapiens domain, log the REST command, record the task completed and initiate the next task(s).
You maintain full control over REST commands. (i.e., use different commands/processes to add NetSapiens users, all based on

your

unique requirements).
Our data alarms tool can identify failed transactions and notify a user/technician to manually intervene.
This provides a high-level level of NetSapiens automation directly configurable from the TimelyBill interface.
Additionally, the TimelyBill platform provides a full back-office toolset including integrated quoting, revenue management, and ticketing. All of these capabilities can be extended to your reseller networks using our multi-org architecture.
*NetSapiens recently merged with Crexendo Inc.
---
READ OUR RESOURCE PAGE: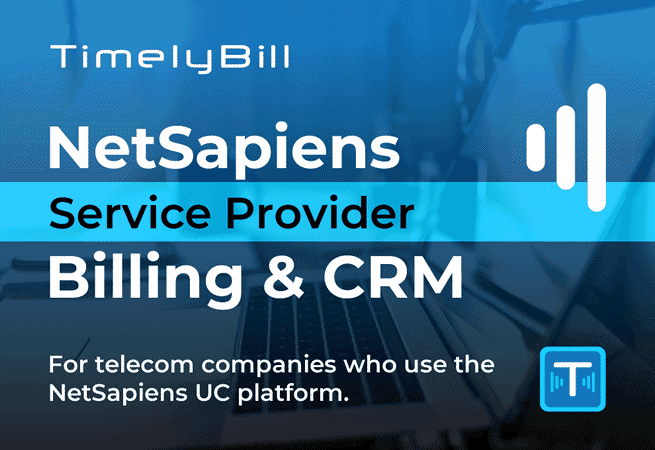 TimelyBill Software Components