Subscription Based Billing and Management
Automate subscriber management tasks such as invoicing, dunning, and collections.
Our subscription billing and management solution can be used across many different industries and business types. Our platform can support telecom, cable, data, wireless, home security, and VoIP services on residential and commercial accounts.
TimelyBill excels at customer care and convergent subscription billing. Customer subscription agreements can set service provisioning, pricing, billing terms, and usage monitoring.
Subscription billing platform highlights
Billing automation
Subscriber management

Recurring payments and accounting
Debtor, dunning and collections management
Quote to cash process linked to product catalog
Business analytics

Hundreds of standard reports, plus create ad hoc and dashboards

Customer support an user experience tools
DID YOU KNOW?
The global subscription management software market is expected to grow significantly. The UBS financial services firm predicts that this "subscription economy" will grow to $1.5 trillion by 2025, more than double the $650 billion estimated to be worth now. This rise in subscription-based services has driven the need for recurring billing platforms like TimelyBill to help manage revenue assurance and profitability.
READ OUR BLOG POST: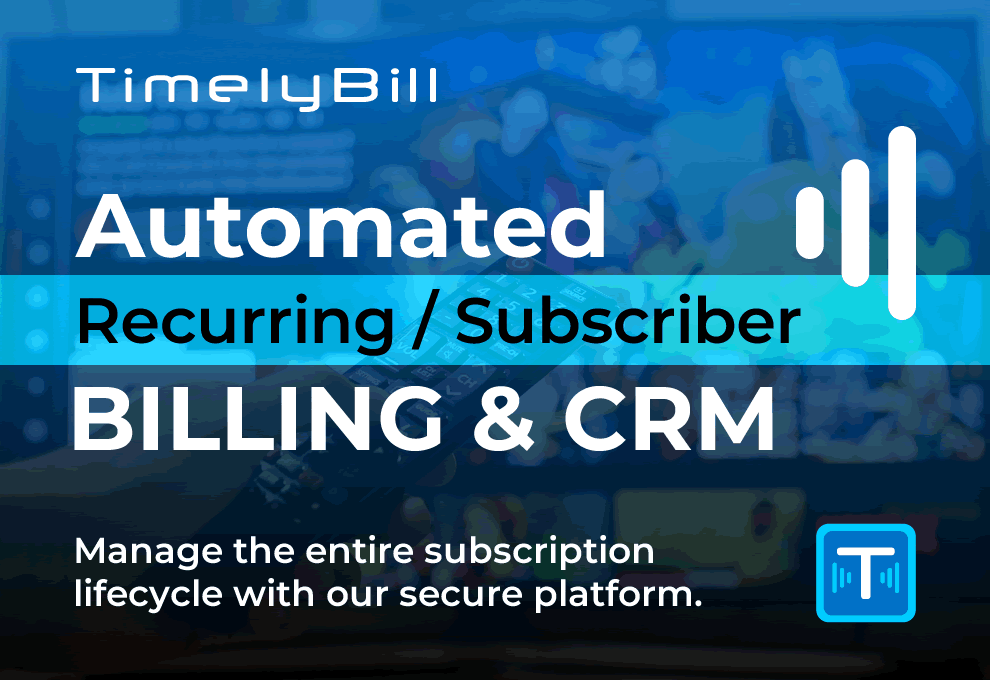 See a Demo
View Features
Automated Subscriber Billing
Subscription-based billing (or recurring billing) is an ongoing scheduled payment process for products or services. TimelyBill can help your subscription business by enabling consistent cash flow, strengthening customer relationships, and increasing their lifetime value.
Set up a personalized Q2C demo and see the power of automation with our subscription management software.