Overview of Our Telecom Billing Platform
TimelyBill OSS/BSS, a SaaS solution for telecom billing.
TimelyBill is a telecom billing and revenue management software. Our SaaS enables service providers to manage customers, introduce products, generate invoices, and collect payments.
With our robust feature-set, CSPs can offer bundled discounts, share multi-tier commissions, detect fraud and accomplish many other CRM related tasks.
TimelyBill is customizable to meet your business needs
We understand that no two organizations are alike. TimelyBill OSS / BSS provides maximum flexibility and reliability. TimelyBill puts you in control of your billing. Add or modify fields, labels, validation rules, permissions, use multiple languages, and more. TimelyBill integrates seamlessly with popular accounting systems, tax engines, and more.
View All Features
Pricing Info
Sample Screens
Why TimelyBill?
TimelyBill is a single stack telecom billing system
We take a holistic approach to telecom billing. TimelyBill includes full-featured components which solve the needs of telecom and communications service providers. Our unified platform helps you manage your customer's data, products and services, usage billing and more... all done from a single user interface.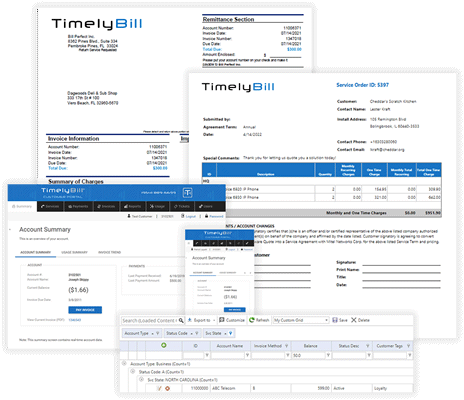 About Our Billing Software
TimelyBill
A hosted enterprise level billing and operations support system for communications service providers. Built for UCaaS, VoIP, Wireless, and IoT billing. TimelyBill's single stack solution can streamline your back office processes.

Looking for Specific TimelyBill Features?
Try our new website search... for example find information about our built-in reporting capabilities or workflow management.