Telecom Order Management from Inside Customer Accounts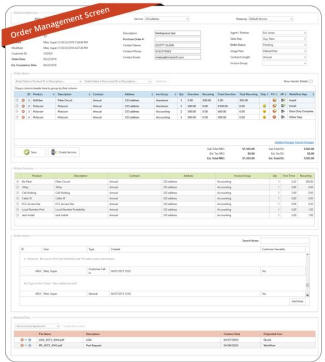 TimelyBill's order management feature automates and streamlines order processing for telecom service providers. Order management facilitates order-to-cash processing by eliminating bottlenecks, redundancies and errors.
The order management "template builder" utilizes drag-and-drop technology allowing the creation of custom data input screens (fillable forms). These screens can be assigned to individual products, categories and types. Benefits include faster sales flow, improved customer relations and smoother order processing.
TB Order Management features:
Smart:

Intelligent product selectors facilitate quick order of single products as well as product bundles.
Searchable notes (both global and product specific).
Upload and manage related documents such as LOA, LNP, etc.
Real-time tax calculation.

Fast:

Single-click conversion of order items into billable services can initiate immediate provisioning.

Logical:

Order management screen mirrors our quote page to enable a smooth user experience between the two related pages.
Integrated workflow can launch and track order fulfillment processes.

Flexible:

Unlimited library of customizable fillable forms to ensure proper order handling for specific product types.

Secure:

Permission based access and full audit logging.


CRM


Revenue


Billing


Products


Reports


Provisioning


Portals
Customer Management Components
Telecom Expertise
We're telecom professionals who recognize the need for a dependable subscription billing platform.
Focused & Driven
Our team is focused on developing and supporting our innovative telecom billing software.