Manage and track your sales leads inside TimelyBill.
Integrated lead management system for service providers
Our integrated lead management tool enables sales reps to better engage customers and cultivate opportunities alongside all of our other billing tools. To help you nurture your leads into customers, TimelyBill organizes all relevant contact info, activity history, notes and more.
Why use a costly third-party application for sales management? TimelyBill now has it built-in!
Lead management features
Manage incoming opportunities for both existing customers and prospects
Streamline the sales cycle pipeline
Manage general lead info (account name and type, lead status, source)
Add multiple contacts
Add multiple locations
Track opportunities (stages, competition, estimated revenue, probability, and close by date)
Track activities (comments, emails, calls, and due by date)
Save searchable notes
View an entire prospect lifecycle at a glance
Reduce manual entry errors caused by maintaining separate systems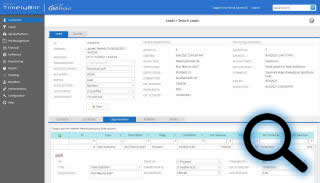 Efficiently manage your entire sales process from the initial prospecting stage to a completed and signed contract.
---
DID YOU KNOW?
As a single-stack platform, we include a full set of CRM components to help you run your billing operations. This has many advantages, including improved efficiency, lower SaaS costs and easier access to your data. TimelyBill is a true lead-to-quote-to-cash solution!
TimelyBill Software Components